Protect your wheel rims and conceal damage with RIM RINGZ™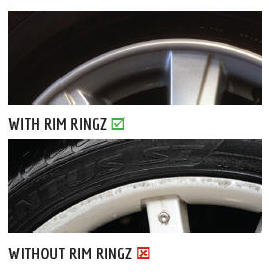 I've always said it and will always continue to say it – the shape, size and level of design flair (or lack thereof) of an alloy wheel will either make or break the aesthetic appeal of any car.  The Peugeot 406 coupe of the mid 90's is a perfect example of a car that exuded style from the tip of its nose to the chrome edged exhaust pipe.   We can all thank the Italian design studio Pininfarina for this classy piece of automobilia.  What we can't thank them for however was it's alloys.  They were a stark contrast to the rest of the car: boring, plain, staid and downright ugly.
I have no doubt that most motoring enthusiasts also share the same belief about their "wheels".  I also have no doubt that most motoring enthusiasts have spent some $'s fixing their wheels from curb scrapes. You\'ve all done it before!  I've probably spent the equivalent to buying a (very) cheap second hand car.
Whilst researching what is available for protecting what many consider the most valued part of their cars I found a surprising number of products on the market.  The one that stood out the most is a product called Rim Ringz.  Rim Ringz are made from high quality plastic that is durable and resistant to all weather conditions.  The product is very easy to install, watch this video .  It also comes in many different wheel sizes and three colours (red, gray and white).  Some competitive car wheel rim protection products also have a huge colour and size range as well.  However, most are made from rubber and require glue to stick the rubber to the rim, which is somewhat a little messy and restrictive.   Some new car manufacturers coat the rims with an antibrake dust coating which will inhibit the level of adhesion of the glue.  The antibrake dust will need to be scrubbed off prior to fitment.  The same restriction applies to freshly painted alloys as well.  In this instance, you'll need to wait sufficient time for the paint to cure and harden before applying the rim protectors.
Based on this research we have decided to stock the Rim Ringz wheel rim protectors in our auto accessories shop.
If you have any questions regarding the RimRingz rim protectors please don't hesitate to contact us.